commentator: monica
yet another fantabulous party was held at bryan's house for our 5th annual ucla pilipino transfer student partnership (ptsp) and friends' holiday celebration and white elephant gift exchange. this year, it was the biggest it's ever been with almost 30 gifts. we're so grateful that all of us have continued to remain friends and that we can always start our conversations with each other as if no time has passed, even if it's been an entire year since we've seen or talked to each other last. a special thanks to all those la-, las vegas-, sd-, and dc- based folks who came up to the bay to help us celebrate. a special congrats to jit, who finally hit the mark on a "good" gift for the white elephant game. =) we'll expect no more medium tourist tee's from you from now on!
we can't wait for the next big event with all of you. a las vegas trip on the weekend of 3.15.08 is in the works!
happy holidays, everyone!
ptsp & friends, december 2007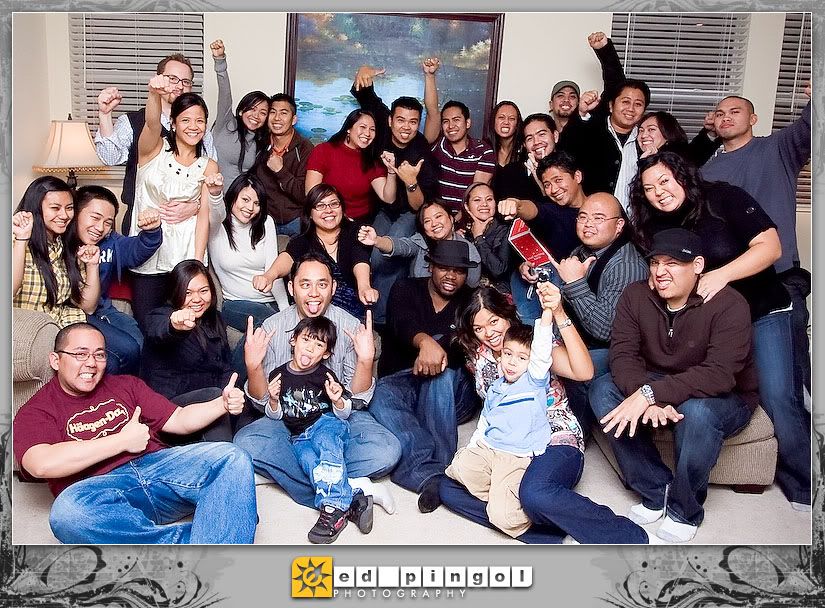 "let's get ready to steal some gifts!"




a lovely array of gifts were given, from electronic media to
decedent desserts & a decorative gourd.




here's eugene stealing a gift from a 5-year old, with daddy jay having to console jared. it's a good thing your career will be in postsecondary education, eugene!





man's other best friend: a coin sorter; the ever popular bottle of liquor; and cold, hard cash!




"fun-due" set; handheld steam iron; coffee mug & tea sets; and gift cards!



getting a great gift= fun!; stealing a great gift= the funnest!



these are some of the most amazing people we know.




a night of good food & drink and most importantly, good company. thanks everyone for yet an other awesome party! now who volunteers to host the '08 party? =) but seriously!